Barocklaute, 13-chörig, nach Hans Burkholtzer, Füssen 1596
baroque lute, 13-course, after Hans Burkholtzer, Fuessen 1596
1596 von Hans Burkholtzer gebaut, 1705 von Thomas Edlinger (Prag) zur 11-chörigen und in den Zwanzigern des 18. Jahrhunderts zur 13-chörigen Barocklaute mit Bassreiter umgebaut; Original im Kunsthistorischen Museum Wien, Inv.Nr.: 44/4065/N.E.48
Mensuren: Spielmensur 70,5 cm, Bassmensur 76,8 cm
Saiten 2 x 1 + 9 x 2 + 2 x 2
21 Späne Vogelaugenahorn mit 3-farbigen Zwischenadern
Decke Alpenfichte mit Herz-Einlegearbeit
Hals und Griffbrett Ebenholz
Wirbelkasten mit Ebenholz furniert und weißen Adern
Wirbelkastenunterseite mit a jour gearbeitetem Rankenornament aus weißem Galalith
weißer geschnitzer Diskantreiter
Stimmung A1A-B1B-Cc-Dd-Ee-Ff-Gg-Aa-dd-ff-aa-d'-f' (andere Stimmung auf Anfrage)
Preise:
5014 Euro incl. MwSt. (19%)
4213 Euro ohne MwSt. / außerhalb EU
Artikel mit Lieferzeit.
maßgefertigter Formkoffer: siehe Etuipreise
Passende Lautengurte finden Sie unter Zubehör
Original in Kunsthistorischen Museum Vienna, Inv.Nr.: 44/4065/N.E.48
string length: 70,5 cm, diapasons 76,8 cm
stringing 2 x 1 + 9 x 2 + 2 x 2
21 ribs bird's eye maple with dark-white-dark spacers
soundboard alpine spruce with inlay
fingerboard and neck ebony
pegbox veneered with ebony and white spacers
pegbox back side with a jour made ornament from Galalith
white discant rider with carving
tuning A1A-B1B-Cc-Dd-Ee-Ff-Gg-Aa-dd-ff-aa-d'-f' (Other tuning is available any time).
prices:
5014 Euro incl. VAT (19%)
4213 Euro without VAT / out of the EU
Article with delivery time.
fitted case: look at Instrument cases
You will find instrument straps here Accessories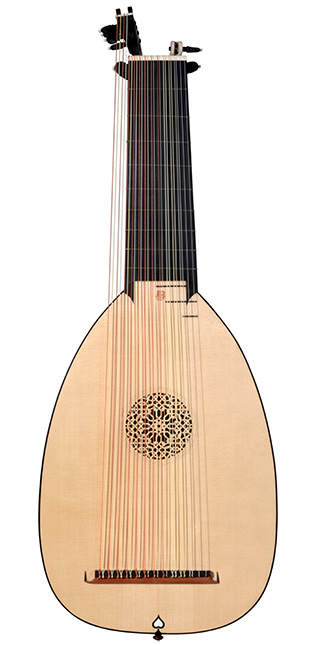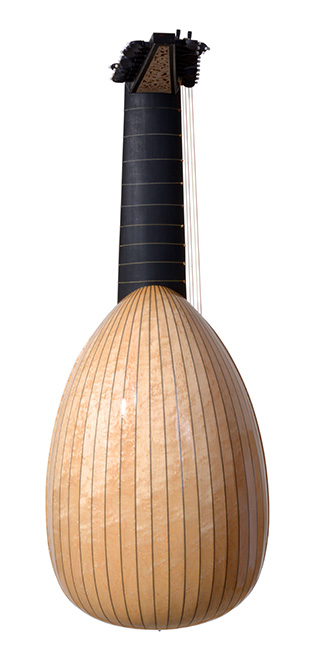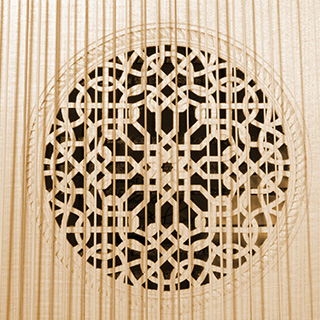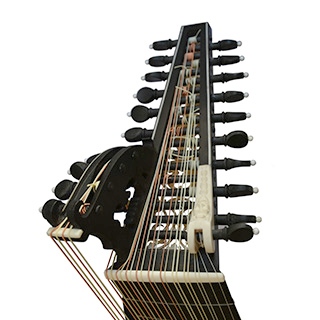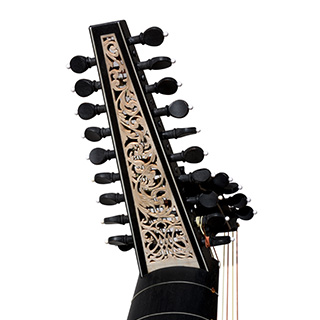 Barocklaute - schlicht gehaltene hellere Ausführung (Kundenwunsch) / baroque lute - without or less decoration (customer instrument)
Preis auf Anfrage / Price on request